RECIPES
Quality ingredients that you can actually see in your pet's bowl
Our team of pet nutritionists, Ph.D's, and chefs have crafted your pet's new favourite meal
Turkey Gobbler
A festive dinner of ground turkey meat and chicken giblets (liver and heart) is complemented with a tasty medley of butternut squash, russet potatoes and spinach.
View Nutritional Info
Italian Beef Pasta
We don't know a dog (or its hooman) who doesn't love pasta. Quintessentially Italian, our Italian Beef Pasta is like a hearty bowl of spaghetti for your pup. Serve it as a main meal or a protein -packed topper.
View Nutritional Info
Classic Pork Stew
Our Classic Pork Stew combines hearty, root vegetables like pumpkin, parsnip and turnip with kale  and spinach. If your dog has ever begged for a bite of Thanksgiving dinner, consider this the next  best thing.
View Nutritional Info
Goji Berry Beef
Breakfast for dinner? We're in. Blending 100% whole grain oats with protein-rich beef and liver, our Goji Berry Beef features antioxidant-rich blueberries, blackberries and goji berries for a nourishing, sweet treat.
View Nutritional Info
Coconut Chicken
Creamy coconut, tender chicken, carrot and spinach on a bed of rice — we've taken Thai take-out and made it dog-friendly. Infused with turmeric, it's anti-inflammatory and low-fat friendly for pups with pancreatitis.
View Nutritional Info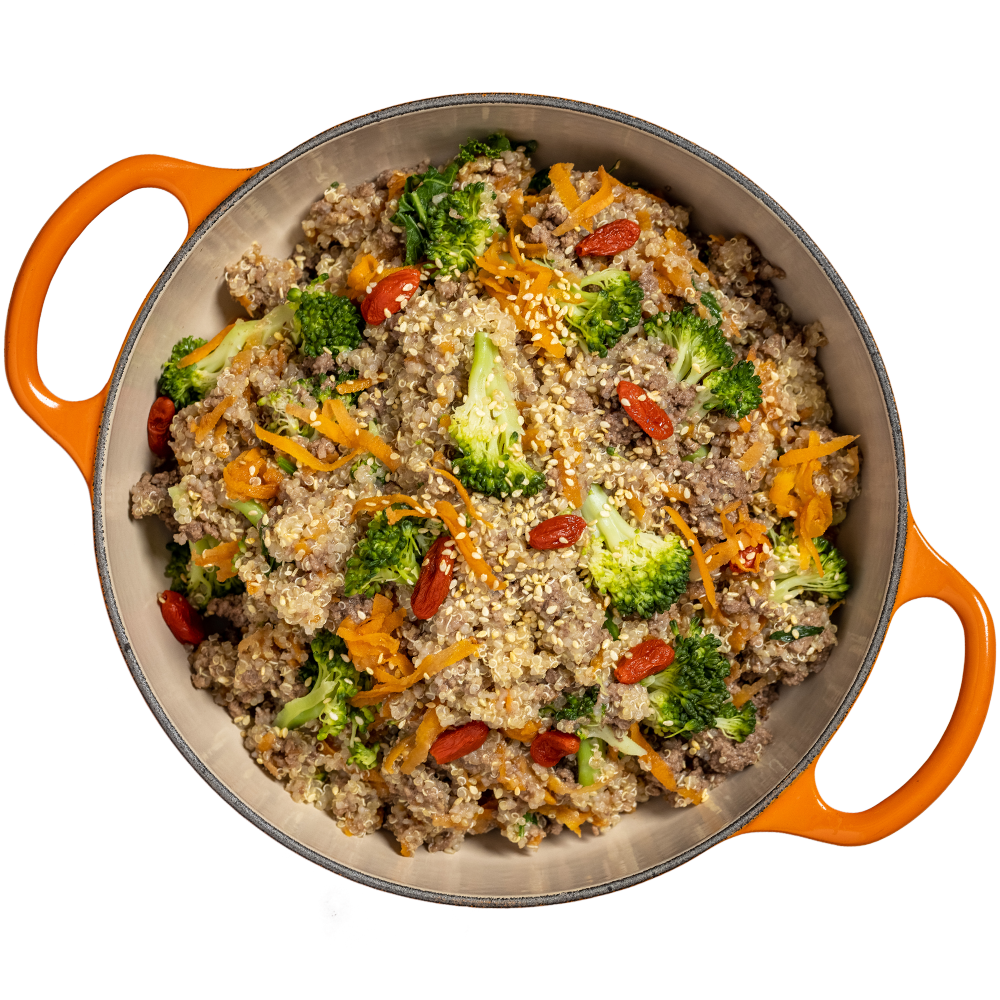 Beef & Broccoli
Run, don't wok to the freezer because this meal is a canine take on the iconic Chinese dish: Anti-inflammatory ginger, crisp broccoli and tender, extra-lean ground beef, so even dogs on low-fat diets can enjoy this meal.
View Nutritional Info
Fisherman's Best Friend
(Formulated for Senior Care) Made with wild Alaskan pollock, this low-fat recipe is now also designed for renal support for healthy kidneys as dogs age (lowered phosphorus, moderate protein, lowered sodium).
View Nutritional Info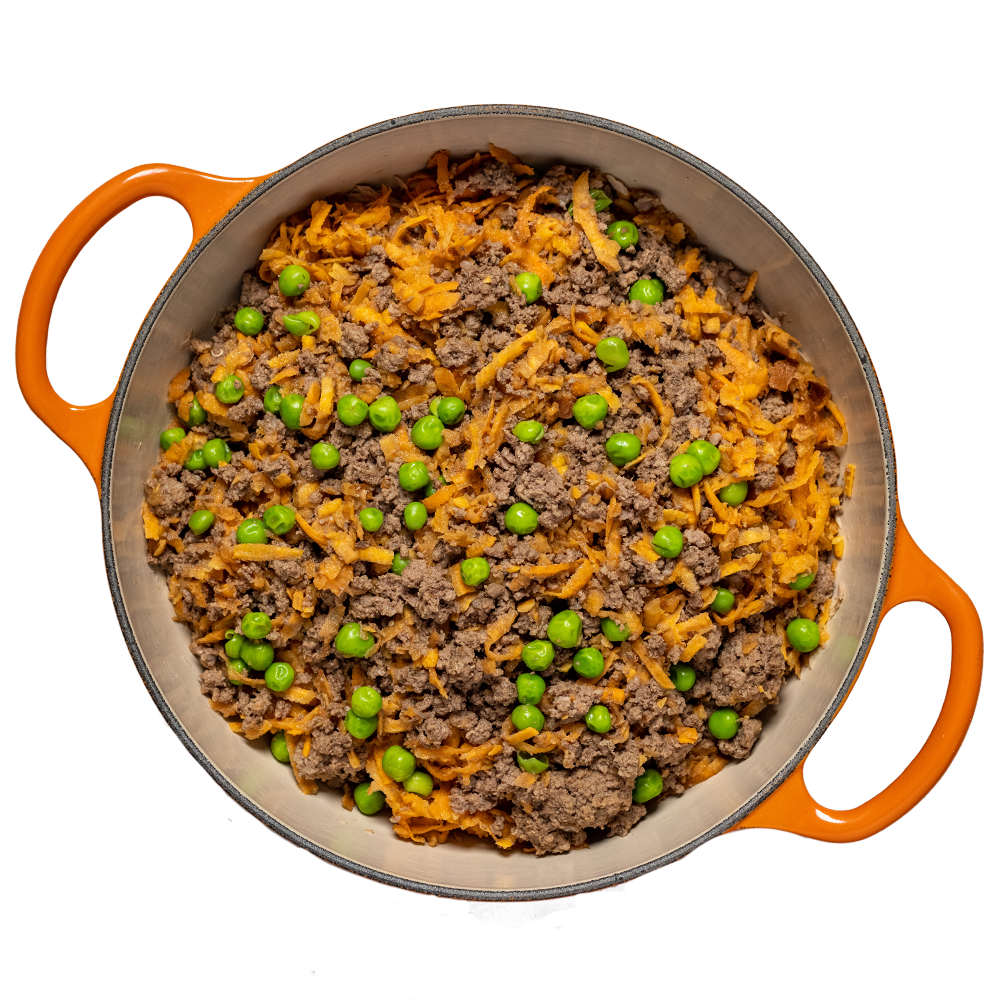 Kangaroo
Put a hop in your pup's step! Never farmed, our wild kangaroo is organic and ultra-low fat —perfect for dogs with pancreatitis. Mixed with sweet potato and peas, this delectable dish is good for allergies and intestinal upsets, too.
View Nutritional Info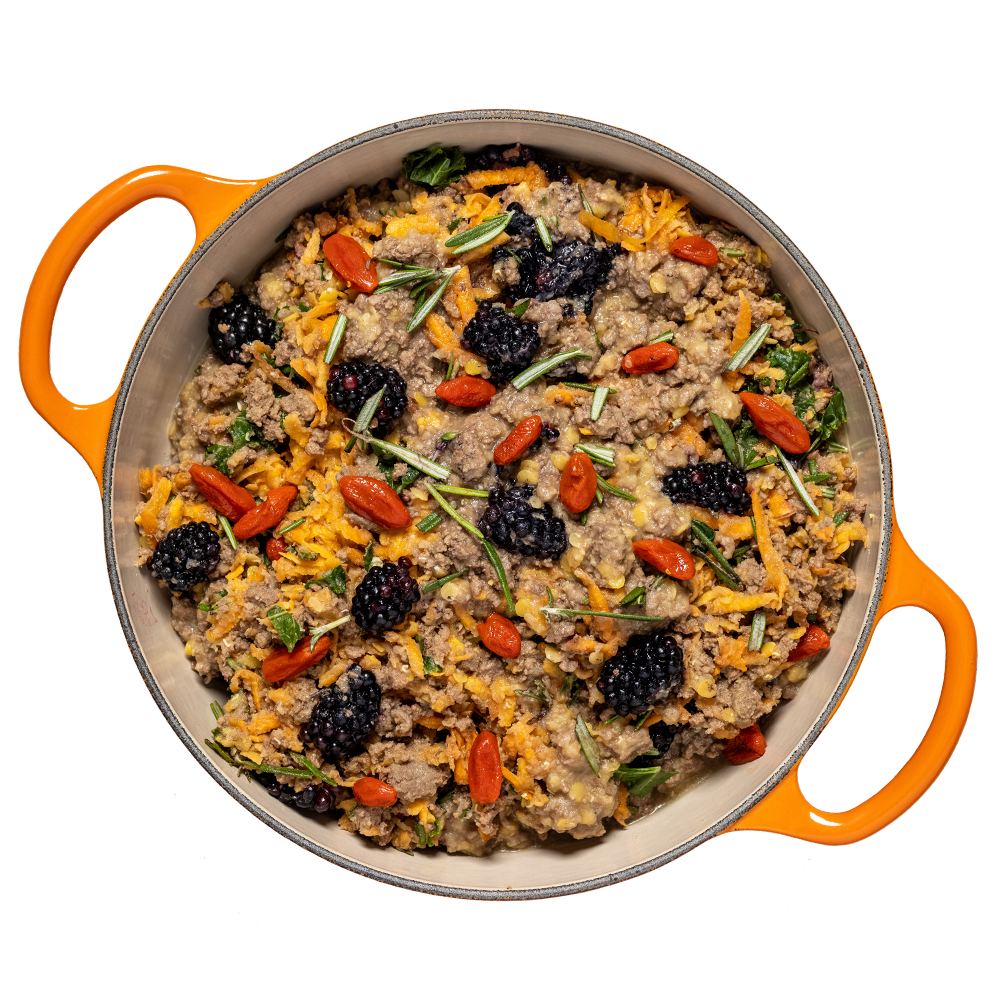 Rosemary Venison
Our Rosemary Venison is an ultra-low fat novel protein and grain-free — perfect for pups with pancreatitis or allergies. Blended with sweet potato, lentils, antioxidant-rich berries and rosemary, it's as nourishing as it is mouth-watering.
View Nutritional Info
Chicken Cacciatore
Perfect for picky eaters and inspired by the rustic Italian classic dish Cacciatore, this hearty, low-fat puréed meal combines tender chicken, stewed tomatoes, and potatoes for a cozy, mouth-watering meal. This recipe was also particularly designed support the health and vitality of senior felines.
View Nutritional Info
Bento Box
Featuring cat-approved puréed ingredients including flavourful turkey meat, delectable sockeye salmon, sweet potato, hard-boiled egg and ginger root, your cat will be purring "domo arigato!" for another box they will love to tuck into!
View Nutritional Info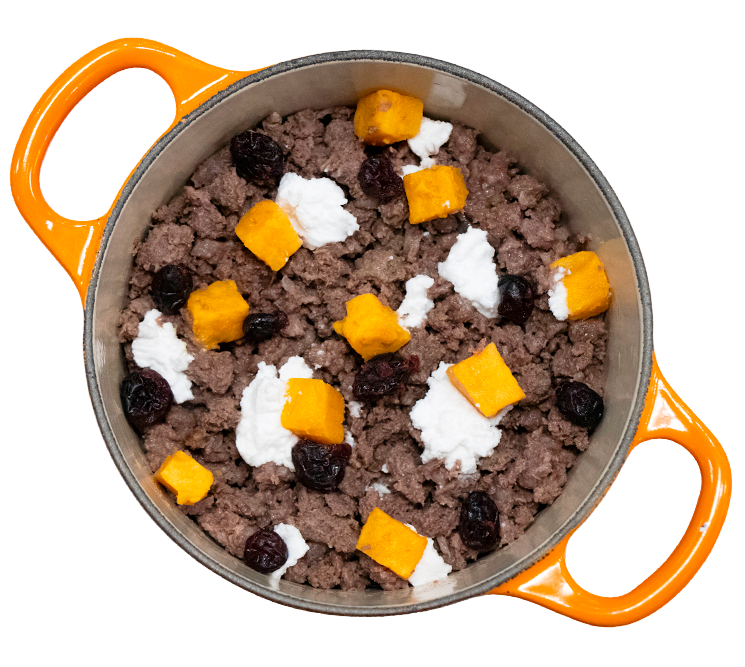 Wild West Kangaroo 227g size
A unique and innovative recipe designed for cats with specific dietary needs, such as allergies or gut health issues, by using Kangaroo as a lean and novel protein source, combined with Coconut Milk and Pumpkin for healthy fats and fiber.
View Nutritional Info
A fresh-cooked diet supports:
Softer, shinier coat
Clearer, brighter eyes
Fresher breath
Better digestion and poops
More energy and happiness
Fewer allergic reactions
We bring healthy whole foods to your pet's bowl
Only Natural Ingredients
There's a reason pets love human food: It's real food. You won't find any ingredients you can't pronounce in our recipes. In fact, they're all cooked like human food: Veggies and all.
Gently Cooked for Digestion
Skip the synthetic ingredients in kibble or the bacteria in raw meat: Gently cooked food allows your pet to avoid the digestive upsets and better absorb the nutrients in their food.
Personalized to Your Pet
One diet doesn't feed all. Our meals are made with scientifically-backed ingredients to support your fur baby's needs whether they have dietary restrictions or just aren't thriving.